How to Boost Your Immune System Naturally
All Natural Immune Boosting Supplements combined with the World's Strongest IGF-1
The power of nature's antioxidant, Glutathione, together with Nutronics Labs IGF-1 Plus with Velvet Deer Antler.
Helps boost your immune system
Helps Arthritis pain
Helps Increase energy
And more!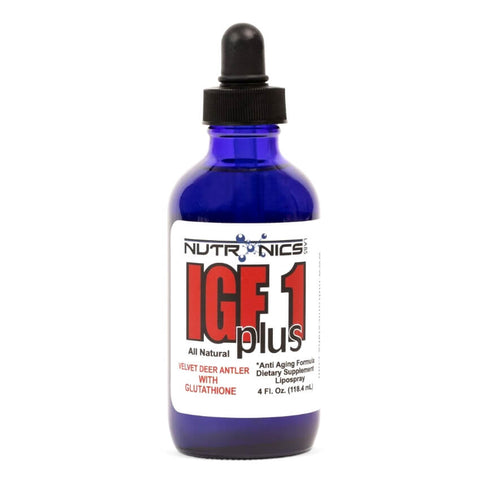 Doctor Formulated To Help Boost Your Immune System During Flu Season. Also known as 'The Mother of All Antioxidants'.
Glutathione With IGF
Other Ingredients: Purified water, Vegetable Glycerin, Lecithin (soy), Stevia Extract, Natural Flavors, Sodium Hydroxide and Potassium Sorbate (as preservative.)
Dosage and Directions:
It is very important to follow these directions in order to achieve optimal results!
Shake well before use. As a dietary supplement, take one teaspoon per day. For best results, hold for 20 seconds before swallowing. This allows the formula to penetrate through your endocrine glands. Then the active molecules are released directly into your bloodstream. This is how Nutronics Labs liposome technology can deliver and enhance bioavailability!
Caution: Do not use if outer seal is broken. Not intended for individuals under the age of 18. Consult your healthcare provider before use if you are pregnant or nursing, have a medical condition, or when taking any medication. *Contains: Soy.
These statements have not been evaluated by the FDA. These products are not intended to diagnose, treat, cure or prevent any disease.
Please check with your physician before taking any supplement. If you are in any kind of sports program please check with the rules and regulations of your governing body before taking this product.
WEB MD for Glutathione and Deer Antler Velvet Extract
Please check with your physician before taking any supplement. If you are in any kind of sports program please check with the rules and regulations of your governing body before taking this product.
Glutathione Benefits
Glutathione has anti-aging properties and is used for many medical purposes helping to prevent or helping treat such conditions as:
Heart Disease and High Cholesterol
Liver Disease
Arteriosclerosis
Asthma
Learn How You Can
SAVE 50% On All Products
Join Now
Ingredients
Glutathione
Glutathione, is a natural substance produced by the liver (as nature's detoxifier) and found in every cell in the body. It can also be found in fruits, cruciferous vegetables, and meats. Known to help treat diseases which weaken the body's natural defense system, it has been used for conditions like chronic fatigue syndrome and AIDS.

Glutathione has been used in chemotherapy treatment and can help prevent the poisonous side effects. Additionally, it helps fight metal and drug poisoning.

Healthcare providers also administer glutathione to prevent tired blood (anemia). It has been shown to improve blood flow and decrease clotting in individuals with "hardening of the arteries" (arteriosclerosis) and diabetes.

A few more of the extensive health conditions Glutathione has helped treat include: memory loss, Alzheimer's, osteoarthritis, Parkinson's disease, idiopathic pulmonary fibrosis, and cystic fibrosis.
Deer Antler Velvet Extract
IGF-1 PLUS™ (Deer Antler Velvet) contains growth factors which are poly-peptide bonded amino acid chains manufactured and released into the body to carry out specific actions.
Growth factor (IGF) I
Growth factor (IGF) II
Nerve growth factor (NGF) and other neurotrophins
Epidermal growth factor (EGF)
Fibroblast growth factor (FGF)
Platelet-derived growth factor (PDGF)
Interleukins
Vascular endothelial growth factor
Myostatin (GDF-8)
Contains an assortment of both Amino Acids (Essential & Non-Essential) and Free Form Amino Acids.
B-12
Vitamin B-12 is an essential nutrient to stay healthy as it helps keep red blood and nerve cells healthy in the body. Many people suffer from Vitamin B-12 deficiencies, especially as they age.

This causes them to have low energy, breathlessness, numbness, poor balance, and memory trouble. Vitamin B-12 has also been shown to help promote healthy brain function.
"Everything changed when I used this product!"
I had stress problems related to my old job, and as a result, I had heart palpitations. During this time I experienced low blood sugar problems, weight problems (I was overweight), stomach problems, dizziness, and fatigue.

I had low energy when working out, even when I had good rest, and had a great diet. I was never really hungry, and at times I couldn't sleep well. I also had two torn rotator cuffs in both shoulders due to a mixed martial arts injury.

I was told by two different doctors that I would never be able to have a normal workout again due to the tear in both shoulders.
Everything changed when I used this product. I am not a spokesperson for this product, and I am not getting paid to say this. I am stating pure FACTS.

This stuff really does work! Both of my rotator cuffs have healed up 100%. I can work out and train whenever I want to. My heart is good and my cholesterol is good. Blood pressure is regulated to normal, no blood sugar problems, no appetite problems. Great burst of energy when working out, no dizziness.


- Stacey Briones*